The Embers by Hyatt Bass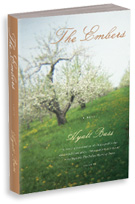 Read the first chapter of The Embers
Purchase The Embers
A once-charmed family is forced to confront the devastating tragedy that struck it years ago in this fiercely tender tale of betrayal and reconciliation.
Blessed with beauty, talent, and a loving family, the Aschers seem to have it all. Joe and Laura are the toast of New York, a wildly successful playwright and a wealthy, well-educated actress. Then one winter night, seventeen-year-old Thomas dies, and the Aschers lose everything. More than a decade later, as their daughter Emily's wedding approaches, the family yearns to reconnect. But in order to do so Joe, Laura and Emily will first have to confront the tangle of blame, guilt and long-held secrets that tore them apart. Shifting between past and present over the course of sixteen years, The Embers is an utterly gripping and exquisitely tender story of a family struggling to reconcile the past and embrace the future.
Purchase The Embers at one of these online retailers.